ImPat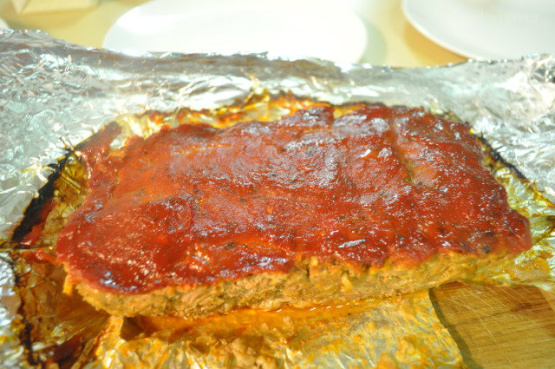 This is a very flavorful meatloaf that qualifies as a core recipe for Weight Watchers. I love onions, so there are lots, but obviously you can adjust the onions and the spices to taste. I rarely measure spices unless following a recipe, so all measurements for spices are approximate. Also, I almost always use ground turkey, but this could be made with ground beef. There are a lot of steps here, but none of them are very hard and can be done quite quickly. Don't be afraid of using oats. Once cooked, you cannot tell the oats are there.

Top Review by ImPat
I scaled this back for 4 serves and baked in a meatloaf tin (lined with foil for easy removal) but otherwise made to recipe baking at 175C fan forced for 45 minutes and was thoroughly enjoyed with some left overs for sandwiches. Thank you BabyEsq, made for Help A Naked Recipe, Photo Forum Special Event.
Preheat oven to 350 degrees.
Place fennel seeds in a small, non stick pan over medium high heat on your stove top to roast. Occasionally stir or shake seeds as they roast. Roast until seeds start to appear a bit golden in color instead of greenish, about 2 minutes. Be careful, they will go from toasted to burnt very quickly.
Place the diced onion and olive oil in a non stick pan, sprinkle with salt and saute. To avoid burning, add the minced garlic to the onions after a few minutes. Saute onions and garlic until tender.
In a large bowl, combine turkey, oats, whisked eggs, sauteed onion and garlic, fennel seed, Worcestershire sauce, Italian seasoning, garlic powder, salt, black pepper, and about 3 tablespoons of the canned tomato sauce, reserving the remaining sauce. Combine well using your hands or a large spoon.
Spray the bottom of a 9x13 baking dish with cooking spray. Turn meat mixture out into the baking dish and form into a rectangular loaf that ends about an inch and a half from the sides of the pan. I like to flatten the top of the loaf and then form an indentation around the top to make a lip. This helps to keep the tomato sauce on top of the loaf.
Pour the remaining tomato sauce on top of the loaf spooning some onto the sides of the loaf.
Bake at 350 degrees for approximately 55 minutes.