Ww Choc-Peanut Frozen Cookies Points+ 2
Course: desserts PointsPlus™ Value: 2 Servings: 16 Preparation Time: 5 min Cooking Time: 10 min Level of Difficulty: Easy If you love dark chocolate, you're bound to love these: a decadent way to cool off on a hot summer day.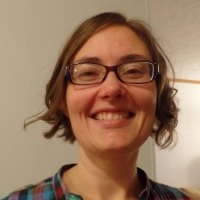 These are great for a dark chocolate lover! Eating them frozen is a bit difficult on the teeth, but otherwise they are a gem. I followed the recipe as written. I made these for PAC Spring 2013.
Mix milk, cocoa powder and sugar in a small saucepan over low heat.
Bring to boil, then remove from heat. Add peanut butter and stir into mix until melted.
Stir in oatmeal and oil.
Drop 16 spoonfuls onto a baking sheet lined with wax paper. Freeze for at least four hours; they are better the day after you make them. Yields one cookie per serving.