Ww Chinese Pineapple Chicken With Black Bean Sauce - Points=7
punkyluv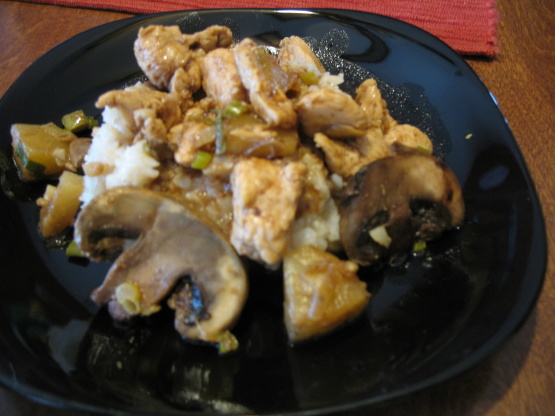 This was the featured recipe in an email that I received today from the www.weightwatchers.com website: Forget Chinese take-out: This sweet and savory chicken recipe is delicious and a breeze to make. It's wonderful served over brown rice.

This was just wonderful! (this picture does not do this justice, i will take a new one the next time I make this) I added mushrooms(its a sickness i have, i add them to everything:)) and I also added alot more garlic(another sickness) I over cooked the chicken just a tad but that was of course my fault and not the recipe. Thanks Cheryl for ANOTHER great recipe!:) I will be making this often.
Coat a large nonstick skillet with cooking spray and set pan over medium-high heat. Add scallions, ginger and garlic; cook until soft, about 3 minutes. Add chicken and cook until lightly browned on all sides, stirring often, about 5 minutes.
Add pineapple (with its juice) and black bean sauce to skillet; bring to a simmer. Simmer until chicken is cooked through, about 5 minutes more.
Divide rice among 4 shallow bowls and spoon chicken mixture over top. Yields about 1 cup of chicken and 1/2 cup of rice per serving.