Ww Beef Patties With Sweet and Sour Onions 5 - Points
Debbwl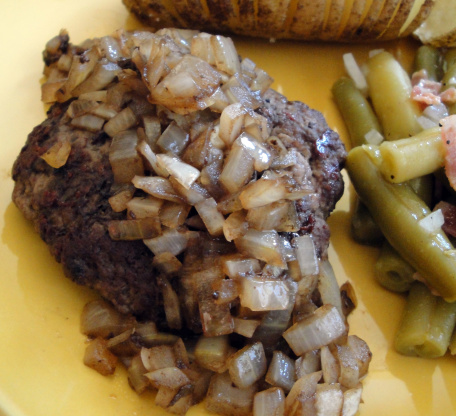 This is out of the WW cookbook called "15-Minute Cookbook" dated 1998. I have it marked as being really good! It's a quick and easy dish to prepare. I have just used chopped onion in place of the frozen. If you do use the frozen make sure to drain well so gravy isn't watered down. Hope you enjoy.

Top Review by Debbwl
We loved this simple and healthy recipe, finding the seasoning in the beef to be spot on. I did use fresh onion instead of frozen and used Splenda in place of regular sugar. These turned out prefect and look forward to enjoying again. Thanks for the post.
Combine first 3 ingredients; stir well. Shape meat mixture into 4 equal patties, 1/4 inch thick.
Coat a large nonstick skillet with cooking spray; place over medium-high heat until hot. Place patties in skillet, and cook 5 minutes on each side or until done.
While patties cook, thaw onion by placing in a strainer or colander under warm running water. (I just chop up fresh, about 2 1/2 cups). Drain well.
Transfer patties to a serving platter, and keep warm.
Add onion, sugar, and vinegar to skillet; cook 4 minutes over medium heat or until onion mixture is slightly thickened.
Pour onion mixture over patties, and serve immediately.