teresas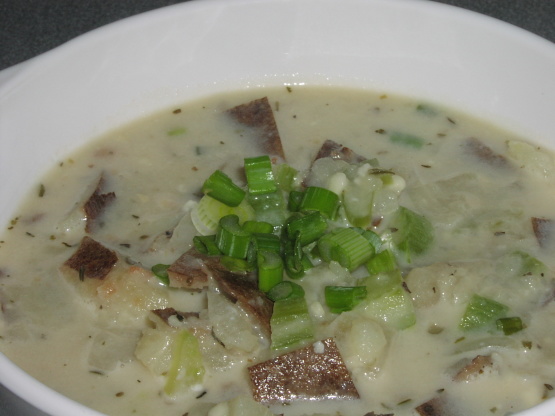 This was rated by DH as a Killer recipe. It is make from leftover Ww Loaded Baked Potatoes. It's a great dish to prepare on busy week nights, because you start with prepared potatoes. This is from one of my old weight watcher cookbooks called "Just like Home" It has 6 points per 1 1/4 cups.

I have to admit that I did not make the baked potatoes, but instead cooked a potato and added some feta and cream cheese to the soup. I also peeled my potato, as I don't really enjoy potato skins in most dishes. I saved some of the green onion to put on top, omitted the bacon, and added some shredded cheddar cheese as a garnish. I'm not sure that I like the feta in this - did not dislike it, just not decided. But we finished our soup with no problems - I made half the recipe aned had no leftovers.
Melt butter in a Dutch oven over medium heat.
Add onion and celery; sauté 3 minutes.
Add garlic, and bay leaf; sauté 2 minutes.
Add milk and next 5 ingredients; bring to a boil.
Reduce heat, and simmer 10 minutes.
Discard bay leaf.
Ladle soup into bowls; top with green onions.