teresas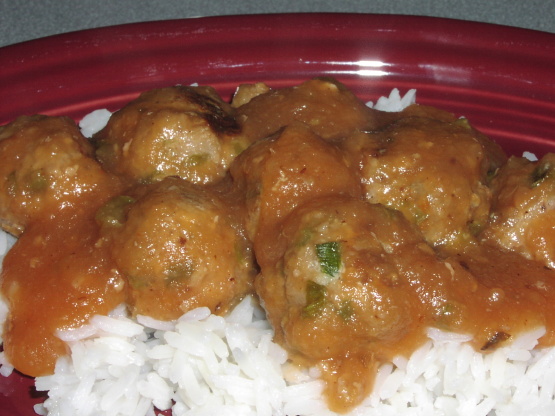 from WW's Simply the Best Cookbook. These are actually presented as an appetizer in the original cookbook, but we usually serve them as a main dish over hot cooked jasmine rice. Wonderful and easy! 2 WW points per serving (as appetizer) or 4 WW points per serving as main dish.

Preheat oven to 375 and spray a jelly roll pan with cooking spray.
In a medium bowl, lightly combine turkey, pepper, scallions, bread crumbs, egg white and soy sauce. Shape into 32 balls (about 1") and place on the pan. Bake until cooked through and browned, about 15 minutes. (In my oven, at least, 20 minutes is best).
In a microwave-safe bowl, combine sweet and sour sauce with applesauce. Microwave on high until hot and bubbly (about 2 minutes).
Stir the meatballs into the sauce and serve.