Ww 6 Points - Sweet-And-Sour Pork
Derf2440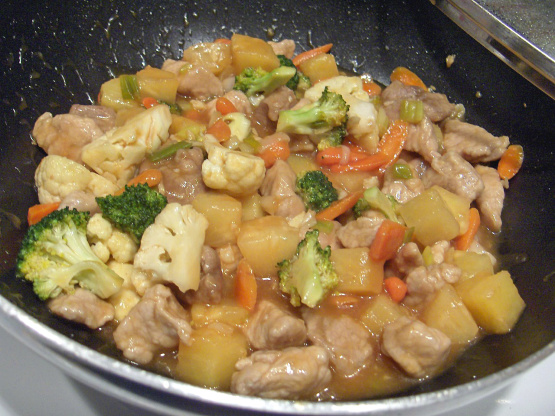 From WW Take-Out Tonight. "The sauce in this dish is extremely versatile. Try substituting chicken, shrimp, scallops, or even skinless duck breasts for the pork in this recipe."

This is an excellent WW dish! I do think that next time I will throw in more veggies. Like Derf did. Wonderful flavor, easy to prepare and you get to stay on program. I used shrimp and also dusted the finished product with some red pepper flakes for heat. (not showing in photo). I did add about 2 tbls of water before adding the ginger and garlic to deglaze my wok. I also added another 2 tbls of water about 2 minutes into the bell pepper and pineapple cooking time. This thicken up beautifully with the final addition of the sauce mixture. I served this delicious dish over rice.Thanks for posting.
Combine the pork with 1 tablespoon of the cornstarch in a medium bowl; toss well to soat and set aside. Combine the remaining 1 tablespoon cornstarch, the water, vinegar, sugar, ketchup, and soy sauce in a small bowl; set aside.
Heat a nonstick wok or a large, deep skillet ower medium-high heat until a drop of water sizzles. Swirl in the oil, then add the pork. Stir-fry until almost cooked through, 2-3 minutes. Add the ginger and garlic. Stir-fry until fragrant, about 30 seconds. Add the bell pepper and pineapple; stir-fry until crisp-tender, about 3 minutes. Add the vinegar mixture and cook, stirring constantly, until the mixture boils and thickens and the pork is cooked just through, 1-2 minutes.