Ww 4 Points - Baked Potato Skins
teresas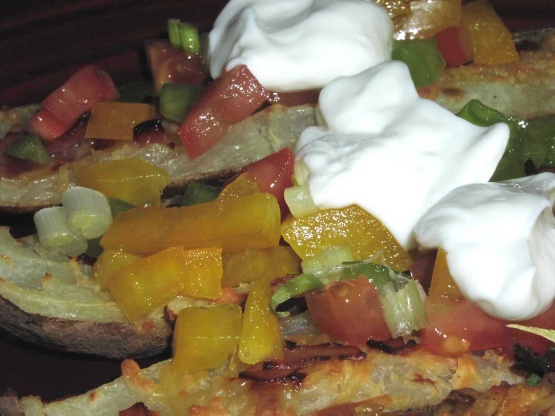 From Fabulous Fat-Free Cooking. To cut down baking time, you can microwave the scrubbed potatoes for 7 minutes, turning them 4 times for even cooking. Wet the potatoes and bake at 350 degrees for 30 minutes, or until tender. After you've scooped out the potato flesh, save it for another use, such as mashed potatoes or potato pancakes.

Wow! When DH says "this is really good" you know you have a winner. He didn't even know it's a WW recipe. I used shredded cheese and put the chopped ham on top before putting them under the broiler. I was out of red peppers so used yellow instead. Very colorful recipe. Thanks for posting.
Preheat the oven to 350 degrees.
Wash and gently scrub the potatoes but don't dry.
Poke each potatoes several with a fork.
Place at least 4inches apart on the oven rack and bake for 1 hour, or until tender.
Remove from the oven.
Cut each potato in half lengthwise.
Set aside for 10 minutes, or until cool enough to handle.
With a large spoon, scoop out the potato flesh, leaving a sturdy shell; reserve the flesh for another use.
Using kitchen scissors, cut each skin in half lengthwise. Place the potato skins on a baking sheet.
Coat both sides of each skin with nonstick spray.
Top each with a half slice of cheese. Broil 4 inches from heat for 4 minutes, or until the cheese partially melts.
Remove from the oven.
Transfer the skins to a platter.
Top with the sour cream and sprinkle with the ham, green peppers, red peppers, tomatoes, and scallions.
Season to taste with the black pepper.
4 Points per serving (4 skins).