Ww 2 Points - Frosted Banana Bread Muffins
Redsie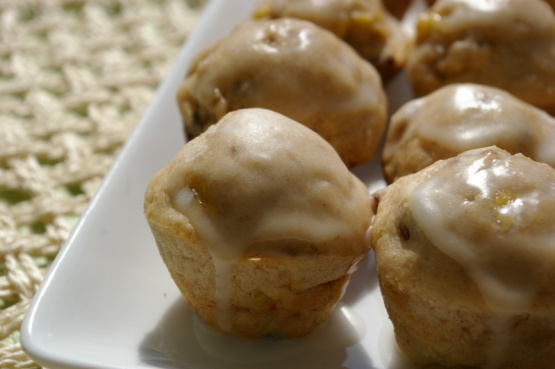 lovely muffins, i used apple sauce instead of oil as well as 1% buttermilk to make it even lower fat.(is that possible? lol) and splenda brown sugar blend. Its great to have a fat free snack that is yummy.
Preheat oven to 350ºF.
Coat 24 mini muffin tins with cooking spray.
Blend together oil and brown sugar.
Beat in bananas, lemon zest, egg and egg white.
In a separate bowl, whisk together flour, baking powder, cinnamon and salt.
Gently stir half the flour mixture into banana mixture; stir in buttermilk, remaining flour mixture and raisins.
Divide batter among muffin pans.
Bake until a toothpick inserted into center comes out clean, about 10 to 12 minutes.
Let cool in pans for 10 minutes before inverting onto a rack to cool completely.
To make frosting, blend powdered sugar and lemon juice together.
Drizzle over cooled muffins.