Ww 2 Points - 3 Bean Tacos
ladypit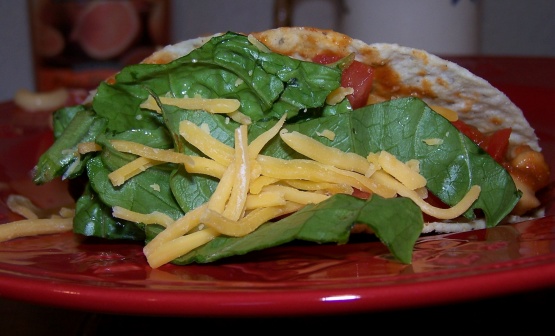 From a low-fat recipe website.

We really enjoyed these. Very filling for only 2 points. Easy to make, a nice weeknight dinner because I usually have all the ingredients on hand. I reduced the spices because I am feeding small children but otherwise kept it the same. I served them with my lowfat mexican mac & cheese & some baked corn chips and salsa. A low fat filling and healthy dinner. Thanks!
Heat oil in a large nonstick skillet over medium-high heat until hot.
Add onion and next 6 ingredients (onion through garlic), and sauté 2 minutes.
Add chickpeas, beans, and tomato sauce. Bring to a boil; reduce heat, and simmer 20 minutes or until thick.
Prepare taco shells according to package directions.
Spoon 1/4 cup bean mixture into each taco shell.
Top each with lettuce, 1 tablespoon tomato, 2 teaspoons cheese, and 2 teaspoons salsa.