Ww 1 Pt. Chocolate Brownie Cups
Redsie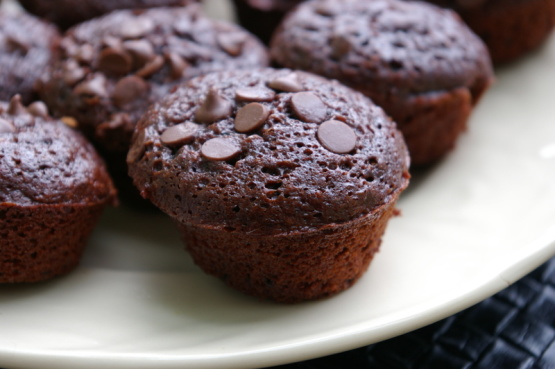 A serving would be considered two brownie's. So then you'd have two points.:-) Not real big, so that's why you need two!!!
Great no guilt snack! I am such a chocoholic and have problems with sneaking chocolate calorie laden foods. I don't feel guilty eating these. I used 1/2 regular sugar 1/2 splenda, egg beaters, and instant coffee powder. My son even raved about them, too! Thanks, Coffeebarista!
Preheat oven to 350 degrees.
Thoroughly mist two 12 cup nonstick mini-muffin tins with cooking spray or use paper liners.
Mix the applesauce, vanilla, eggwhites, and sugar until well combined in a large mixing bowl.
Add the flour, baking powder, cocoa, espresso powder and salt.
Stir until just combined and smooth.
Using half the batter, fill each m uffin cup until just barely full.
Sprinkle half of the chips evenly over the top.
Bake 10-12 minutes.
Transfer the pans to a rack to cool for 5 minutes.
Using a knife, gently remove the bronwies from the muffin tins.
Let cool another 10 minutes.
Repeat with the 2nd half of the batter and remaining chips.