Ww 1 Point - Quick Berry Tartlets
Prep 15 mins
Cook 25 mins

From WW Magazine. You may use any kind of berries. The shells may be baked ahead or freezed ahead.
Make and share this Ww 1 Point - Quick Berry Tartlets recipe from Food.com.
Directions
To prepare shells, preheat oven to 350°F Spray 24 nonstick mini-muffin cups with cooking spray.
Pulse the flour, cornstarch, sugar, and salt in a food processor. Add cream cheese, butter, and milk. Pulse until mixture forms into fine, damp crumbs. Press into a ball and knead gently a few times.
Divide the dough into 4 pieces; then divide each one into 6 tablespoon size pieces. Gently press each piece into the bottom and up the sides of the prepared muffin cups. Make a few holes in the bottom of each cup with a fork. Lightly brush the inside of each cup with the egg yolk. Bake until golden along the edges (about 20 min). Cool completely.
To assemble, spread 1 tsp pudding into each cooked shell. Top with berries. Just before serving, sift a light dusting of confectioners sugar over the tartlets.
1 Point per serving (1 tartlet).
Reviews
Most Helpful
My daughter and I made these today for a light dessert. I used vanilla sugar free pudding with a touch of almond extract in it. Turned out great!! Helps me have dessert and stay on my eating plan too.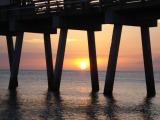 While I thought the dough was hard to mold into the correct tart shape, these are really very good little tarts. I made the dough as stated (though I left off the yolk wash) and it came together as a dough well, but I had a really difficult time getting them to the right thickness to put them in the mini muffin tins. The tart shells themselves are not very sweet. But adding the pudding (I just made my own fat free sugar free vanilla) and some frozen blueberries really made these cute as well as tasty. While I actually found them time consuming I could see myself making them again for a party. Thanks mariposa!

Summer Central