Wurst Salat (Pork Sausage and Cheese Salad)
Linky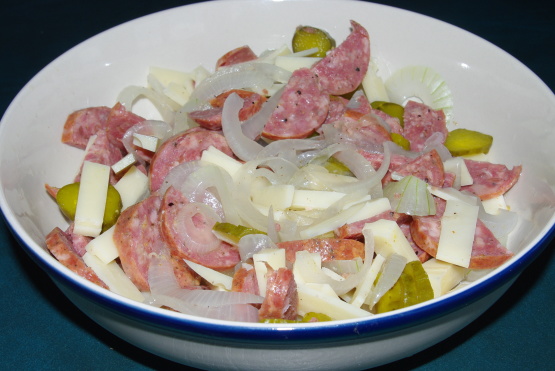 This sausage and cheese salad is popular in the German part of Switzerland. The recipe is adapted from a Dr. Oetker recipe. This salad makes a great lunch served with rolls. You can also substitute the pork sausage with cooked chicken sausage or leftover pork loin.

Top Review by Linky
Totally agree with Zurie on this one. I used Mettwurst instead of Bockwurst (found out the Bockwurst was the closest to the original Swiss wurst according to a Swiss butcher - will purchase when in his area next time, it's a 3 hr drive from me) I used dill pickle slices and forgot to add the oil. It was still great! I'm going remember to parboil onion rings for future uses - what a good idea!
Crusty bread would be great; only had crackers which worked, too!
1⁄2 lb onion, peeled and sliced in rings
1⁄2 lb emmenthaler cheese (or common Swiss cheese)

12

ounces sausages (must use a cooked sausage, can use summer sausage, a good bologna, knackwurst, or frankfurter, but n)

3

ounces gherkins

4

teaspoons wine vinegar

4

teaspoons water

1

teaspoon mustard (preferably a German mustard or one like Gulden's)

1

teaspoon sugar
salt and pepper

3

tablespoons salad oil (like canola or sunflower)

2

teaspoons chives, chopped
Pour water into a pot and bring to a boil. Place the onion rings in the boiling water and cook for 2 minutes. Pour into a sieve and let drain thoroughly.
Remove any rind from the cheese and cut into strips about 1/4 " X 1".
Remove any skin from the sausage and cut into slices about 1/8" X 1'.
Slice the gherkins about 1/8" thick.
Place the onion rings, cheese strips, and sliced sausage and gherkins in a salad bowl.
Make the dressing by mixing together the vinegar and water, adding the mustard, salt, pepper and sugar, and whisking in the oil.
Pour the dressing over the salad ingredients and mix well.
Refrigerate for at least one hour to let the flavors blend.
Sprinkle with chives before serving.