mianbao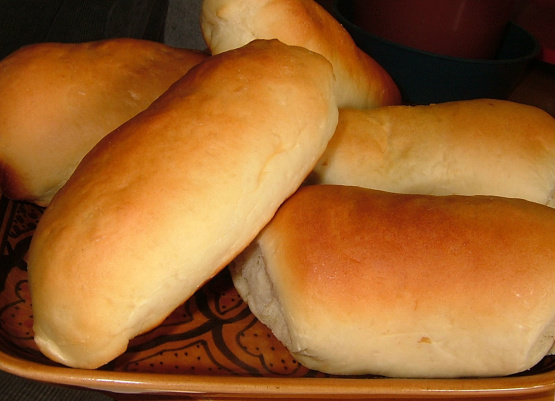 This is your basic cabbage roll filling, but instead of wrapping in a cabbage leaf, you wrap it up in homemade bread dough. They're great warm or cold. Makes a great substitute for ho-hum sandwiches! We like 'em with spicy mustard spread on top. The recipe was given to me by a neighbor, years ago. I double the recipe so I usually get about 2 dozen filled rolls. Note: if you don't want to fool with homemade dough, hot roll mix works great.

5*'s is all they allow me to use...these are fantastic..easy to make the dough is a dream to work with & the filling is great...perfect the way they are but oh the possibilities....tell the Mr. that I was careful to roll the dough thin... Excellant recipe...
Pour hot water in large bowl.
Add milk, yeast, and stir to dissolve.
Add oil, sugar, salt, and eggs.
Beat well.
Add 2 cups, or enough flour to make a soft dough.
Blend thoroughly.
Add rest of flour, in 1/2 cup increments, kneading well after each addition, until dough is elastic and easy to work with.
Place dough on floured surface, cover, and let rest 10 minutes.
Roll out, cut in 4 inch squares, and place a couple of tablespoons of filling in center of each square.
Fold and seal tightly around all edges.
(Filling recipe follows).
Place each filled square on greased cookie sheets, and bake in a 375 degree oven for about 15-20 minutes, or till a nice golden brown.
Remove from cookie sheet and set on cooling rack.
Filling: In large skillet, melt oleo some, then add meat, and brown and drain.
Shred cabbage, and add to meat.
Chop onions; add to cabbage/meat mixture.
Add salt and pepper, or seasonings of your choice.
Stir well.
Cover, and steam mixture about 20-30 minutes.
Cool down to where it's comfortable to handle and then spoon onto dough squares.