World's Greatest Mushroom-Onion Burgers
Bergy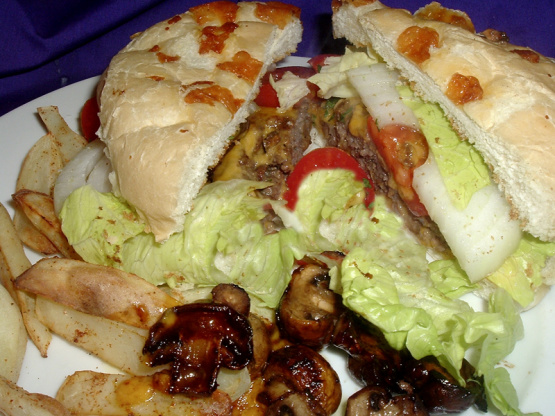 I love a great burger... in fact even if I were mega-rich and could eat the priciest food available, burgers would still be gracing my meals more often than anything else I can think of! I've heard of $24 dollar gourmet burgers and such... but you can make this for a whole lot less money and still be in burger heaven... Another fabulous comfort food fix from "Great Food From Mom's Diner".

Sorry I usually try to keep my reviews short but I feel the need to explain more. I was torn between 3 stars or a 4. Decided on 4 because-First, I prefer commercial patties (weird I know) but we really did enjoy the flavour & they were very juicy! Secondly I changed the quantities due to the amt. of meat I had. The burgers did not break but were slightly falling apart so I had to be careful to keep them together. May have also made them too thick. Thus the 4 stars it was probably more me than the receipe. We liked the mushrooms & onions in the burger & will try again to get them just right. Whew I'm done!! Thanks.
In a large, heavy skillet, melt butter or margarine.
Cook onions over medium-low heat until golden brown.
Add the mushrooms and continue cooking until mushrooms are tender.
Let sit until cool enough to handle.
In a large bowl, mix the sirloin, salt, pepper, steak sauce, and onion-mushroom mixture.
Form into 5 burgers.
In same skillet, heat olive oil over medium heat.
Dredge burgers in flour and cook until desired doneness, turning once.
Add cheese (if desired) and melt atop burger.
Top with a dollop of sour cream.