Cindy W.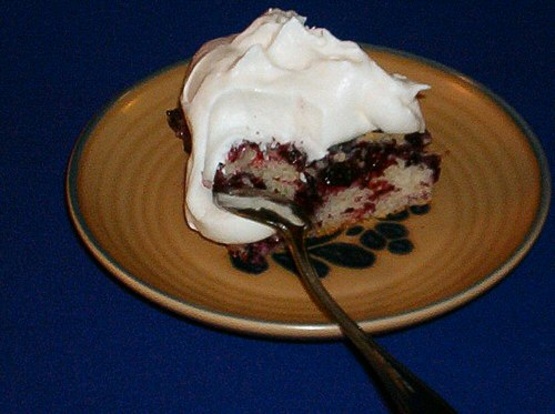 Found this recipe in the Greer(SC)Now magazine and it could not be easier or tastier. I could not believe the end results. Needs to be topped with Cool Whip or ice cream for a true home run. Have since replaced sugar with 12 packets of Splenda and it tastes even better with half the guilt!

This is definitely easy, and definitely good! A wonderful profusion of blueberries, sweet but not too sweet, and a perfect accompaniment to a scoop of vanilla ice cream or whipped cream. The crust on top gets slightly crunchy, but the cake inside is moist and not overly dense. This is a winner! (The only caveat I have is if you make this cobbler with a fruit that tends to be really tart, I would up the sugar amount to 3/4 of a cup.) (Reviewed and photographed for PAC Spring 2009.)
Pre heat oven to 375 degrees.
Melt butter in a 9X12 baking dish while oven is pre-heating.
Combine milk, flour(make sure it's self-rising) and sugar in mixing bowl.
Pour this mixture over the melted butter.
Place fruit on top.
Bake for 30 minutes or until crust begins to brown.