World's Best Snickerdoodles
fromct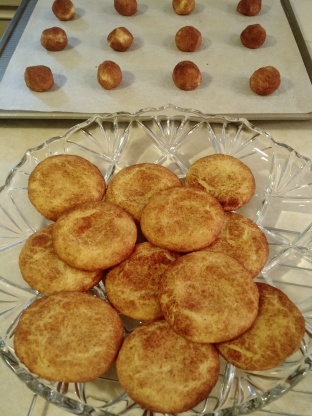 Title says it all. DO NOT OVERBAKE THEM, or you will be sorry. Best to pull them out when they look a little raw and let them harden a bit on the cookie sheet. I have given these as gifts, sold them, and made them for guests, but I never have any left over by the end of the day. They are also very pretty, with the nice "broken" top characteristic of Snicks.

I was SO happy to find a snickerdoodle recipe that required Cream of Tartar...it isn't a proper Snickerdoodle unless it has that ingredient...it's just a sugar cookie, otherwise! These turned out light, fluffy, cinnamon-y...in other words, just delicious and perfect! Great recipe and thanks for posting a Classic American Cookie. :) Made for Spring PAC 2010.
Preheat oven to 400 degrees F.
Cream together butter and sugar.
Add in eggs, one at a time, along with vanilla, until well-combined.
Mix dry ingredients (flour, salt, soda, cream of tartar) in a separate bowl. Add dry ingredient mix into the wet mix in 2-3 stages.
Mix the 2 tablespoons sugar and the cinnamon together in a small bowl.
Use your hands to roll dough into little (ping-pong ball-sized) balls.
Roll dough-balls in the cinnamon/sugar mixture so they're covered all the way around. Place them on an ungreased cookie sheet, 2 or 3 inches apart.
Bake 7 or 8 minutes, until they have spread out and have JUST started to turn brown. Remove from cookie sheets and place cookies on cooling rack to cool and set a little. If they're not completely cooked when they come out of the oven, let them cook a bit more on the cookie sheets, out of the oven. 7-8 minutes will make a nice, chewy cookie with a little crispness on the bottom.