World's Best Seasoned Potatoes
debz365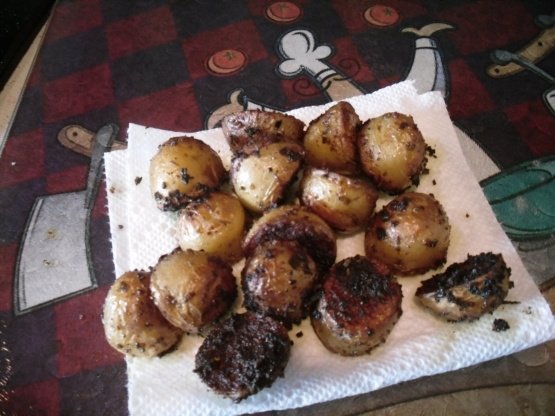 Not too spicy, not too bland, just right for your taste buds. It is not your usual seasoned potato recipe; it has a lot of seasonings but it is amazing.

Top Review by renbel
As soon as I saw the recipe I knew I just had to try it. I love food with lots of seasoning even if I'm doing a salad I have to jazz it up with at least 4 types of seasoning. I followed the recipe, yes I overdosed on everything as I seasoned to taste and it was wonderful. I even added Schwartz garlic and rosemary spuds (which states on the packet for the oven mind you) to the pan and it made a wonderful dish even more so. I love this recipe and I suggest you try it. Its my first review but I had to write this to support the lady who added this recipe. Thank you very very much
Cut the petite potatoes in halves. Set aside.
Preheat the stove to medium-low heat.
Put a medium (or small) frying pan on top of the stove to heat it up.
Combine the garlic salt, crushed rosemary, oregano leaves, parsley flakes, thyme, marjoram leaves, ground ginger, chili powder, dill weed, curry powder, black pepper, chives, seasoned salt and grated Parmesan cheese in a medium sized bowl; stir well.
Crush the French's fried onions until slightly fine; add to the spice mixture.
In the same medium bowl add the olive oil; stir it in well.
Add the sliced potatoes to the spice and oil mixture; coat the potatoes well.
Pour the mixture into the frying pan.
Cook for 25 to 40 minutes.
Move potatoes around every 5 to 10 minutes.