gailanng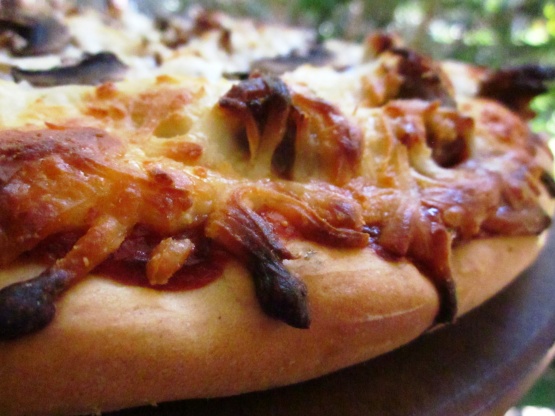 My mom makes the best pizza crust on several continents. It's fast and easy. Excellent as a white pizza or traditional red sauce, any toppings go.

My husband absolutely LOVES the crust on my pizzas thanks to this recipe! It is light and crispy; not too thick, not too thin; and the taste is amazing! Sometimes I just bake the crust with some garlic butter and Parmesan cheese and we eat it like bread sticks or store some in the fridge and when we want lunch or a snack I cover a few pieces with my homemade pizza sauce (I make this ahead and keep it in a sealed jar in the fridge, too) and a few toppings to make mini-pizzas.
Dissolve yeast and sugar in water.
Beat in ½ flour.
Add salt, oil and rest of flour (add more if needed to make handle-able dough).
Rise in oiled bowl.
Place on greased pan.
Add sauce, cheese, etc.
Bake at 450 20 -25 minutes (til brown).