"world's Best" Macaroni & Cheese
Sageca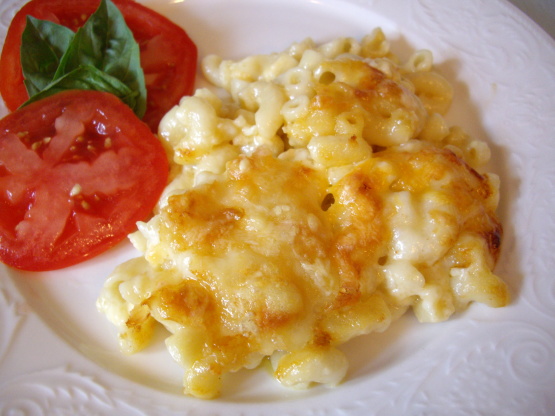 We tasted this in Seattle at the Pike Place Market in the Beecher's store. It is the best! I had to get their recipe and I found it on the internet; It is a very rich creamy comfort food. I do not have Beecher's cheese so I improvised with what is available and it came out as tasty as the original. Serve this with a crisp salad. Enjoy!

I made this dish about two months ago for a Kickoff Summer BBQ. It got RAVE reviews. It was more decadent than most macaroni and cheese recipes. It is delicious. I would follow the recipe to the "T" the first time, then I would do variations (if you'd like). to the people who change this recipe and then state that it is not the best or not good...you're an idiot.
Preheat oven to 350; F. Set a large pot of water on high heat.
Meanwhile, begin the sauce by making a roux: in a medium saucepan melt the butter over medium heat. Whisk in the flour. Continue to stir this roux over medium heat for two to three minutes.
The roux should be cooked and free of the flour flavor but still light in color.
Gradually add milk, whisking briskly to maintain a smooth sauce.
Cook the sauce for about 10 minutes, stirring occasionally to avoid scorching.
When sauce thickens, add cheeses, salt and spices to the sauce, and stir until all the cheese has melted. I make my sauces in the microwave; turns out great and never scorches.
Somewhere during this sauce-cooking process, your pasta water has started boiling. The original is made with Penne noodles. Add a generous amount of salt to the water and cook the pasta until almost but not quite al dente (two minutes before the package directions indicate). You want barely undercooked pasta so that it can finish in the oven later. Halt the cooking by draining the pasta and rinsing with cold water. Return pasta to pot.
Pour sauce over pasta and stir until completely incorporated. The combination should be fairly saucy, almost soupy.
Dish the mixture into a buttered 9-13 pan and sprinkle with extra grated cheeses and cayenne. Bake, uncovered, for 30 minutes, until you have beautiful, browned edges. Those edges will be a welcome and flavorful addition to each serving.
Let the dish sit for 5 to 10 minutes before serving. I divided this in 2 containers and froze one.