2Bleu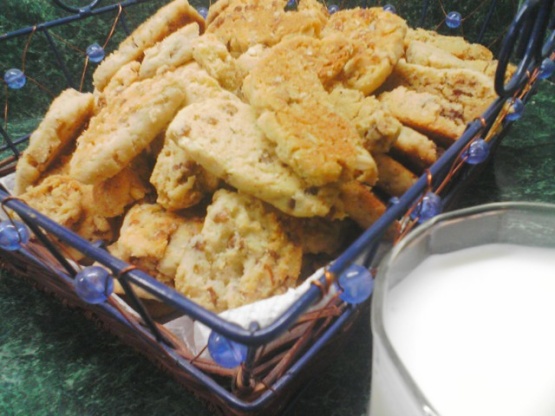 Similar to another recipe by the same name, this one has just a few tweaks. The other is on my list to try, hopefully I can combine the two to make the Best Cookies in the UNIVERSE - but only if I get to eat the results!

wonderful cookies, I increased the vanilla to 2 teaspoons and used all butter, I omitted the coconut and added in some mini chocolate chips and sent these home with my DS to enjoy, thanks for sharing!
Preheat oven to 325°F.
In mixing bowl, cream butter and margarine.
Add sugars, vanilla, and oil.
Beat until smooth.
Add egg and beat again until smooth.
Add flour, salt, baking soda, and cream of tartar.
Add nuts, oats, coconut, and Rice Krispies.
Fold in until well blended.
Cover bowl with waxed paper and refrigerate for an hour.
Dough will be stiff enough to handle.
Spray cookie sheets lightly.
Pinch off a small piece about the size of a marble and flatten with your fingers (a regular sized cookie sheet should hold 24).
Bake for 8-10 minutes.
After removing from the oven, leave on the cookie sheets for a few minutes, then cool on racks.