World's Best Cheese Cake Made Low-Fat
MsSally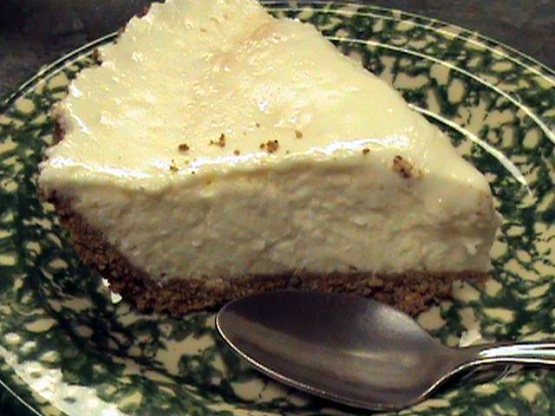 This is a low-fat adaption of World's Best Cheese Cake (Cheesecake) You may ask why not use just the fat free cream cheese - you can but the cheesecake feels kind of oily if you use just the fat free and it does not set up well. If you decide to use fat-free then add a tablespoon of gelatin to help it set. Special thanks to chef Chef #1533 for her Low-fat Heavy Cream Substitute as a substitute for the heavy cream. Calories 278, Fat Calories 66

World's Best Cheese Cake is right! I followed the directions for the crust and the filling. The crust did not turn out right, so I ended up using graham cracker crumbs, sugar and light butter. I think I did something wrong. However, the filling was incredible and I used my food processor to blend the cottage cheese. I would not hesitate to make this for a work function, it's that good. There is no sense in depriving yourself of cheesecake when you can make this and fit it into your diet plan!
Preheat oven to 325°F.
Whip applesauce and egg together and mix in graham cracker crumbs until uniform and all crumbs are wet.
Press into the bottom of a spring form pan and up the sides an inch or so. Set aside.
Mix cream cheeses in a large bowl with an electric mixer until soft and workable.
Add egg whites, 1/2 C sugar and vanilla and mix with electric mixer until smooth.
Blend cottage cheese and dry milk in blender until smooth then add to cream cheese mixture, slowly mixing to avoid lumping.
Pour batter into prepared crust, and bake for 45 minutes.
Mix sour cream and 1/4 C sugar and spread this evenly over the baked cheese cake.
Bake for 15 more minutes.
Cake is done when toothpick inserted in center comes out clean.
Top with fruit pie filling if desired.