Chef Dee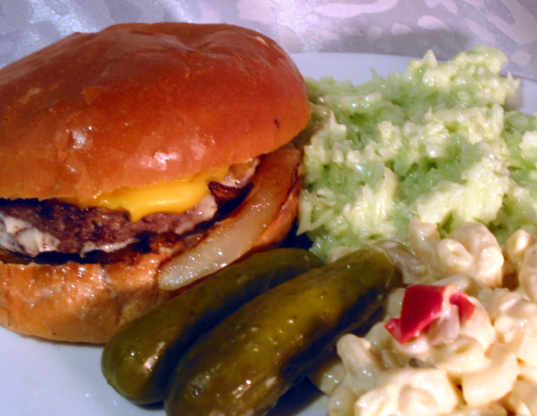 Awesome!! I got this from my best friend's recipe collection. I made it for supper this evening, and I knew I wanted to share it here.

It was not for me. I made it twice, once with ground beef and then again with ground turkey. If I make again, I would delete the ketchup and worcestshire sauce and instead replace with 3 tblsps A-1 sauce and add more Ritz crackers. I am sure this appeals to others. But if I made these changes, it would'nt be your original recipe.
Place ground beef in a large mixing bowl. sprinkle with crushed Ritz.
In a separate bowl, stir the remaining ingredients together, then hand mix into the hamburger.
Using an icecream scoop, place 2 scoops, one on top of the other, onto a cookie sheet.
Repeat using all the hamburger, form into patties.
Chill for 3-4 hours, then grill til done.
Meanwhile, melt the butter in a saucepan, fry the mushrooms and onions until golden.
Serve burgers on a fresh bun, top with mushrooms and onions.