World Famous Horseshoe Sandwich
Rod_R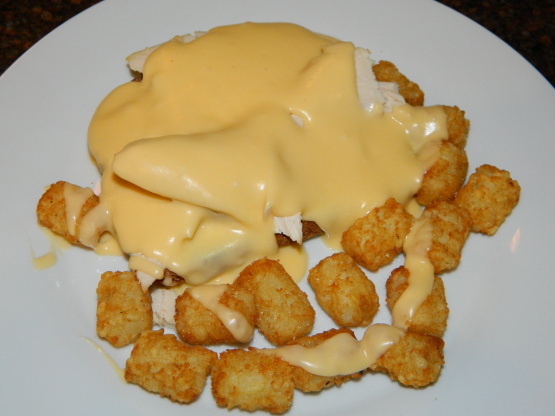 "Horseshoes" are a Springfield, Illinois original, first created by the chef at the "The Red Coach" for his luncheon clientèle. The story goes that he had a lot of extra cheese sauce left over one day and decided to throw it over the "chopped steak" and gravy sandwiches the patrons were always ordering. He added some shoestring potatoes on top, and a sensation was born! This recipe is a update of the original (which called for a whole cup of flour!) and your family will positively beg for more. Don't skimp on the cheese sauce. If your appetite is smaller, cut this in half. Then you have what we call around here, a "pony shoe"!

I was raised in Springfield Illinois and my great grandmother worked at the Leland hotel in the late 20's along side the creator of the Horseshoe Sandwich. She passed it to my grandmother who passed it to me. The original is served on a sizzling metal plate (known as the Anvil) the 2 thick cut slices of bread were toasted and added the the plate. Then a thick slice of ham was added shaped like a horseshoe, to it a Welsh rarbit cheese sauce made of white sharp cheddar, then just before serving shoestring fries were added as the (nails) in the horseshoe. This sandwich was created for the hungry horseman that used to frequent Springfield, many sandwich combinations were created and this was the one that the men loved best. It was not an after thought at the Red Coach. Many years after it was created at the Leland Hotel, Steve Tomko a co creator brought the recipe to Wayne Coombs at Wayne's red coach inn which by the way Wayne did not open until 1971! Hopeful is hopeless, wrong story and wrong cheese sauce, no one but Betty Crocker would try to use Velveeta (which isn't even cheese) in a rarebit cheese sauce. Ron is absolutely correct sharp white cheddar only. There are a few other things wrong with this knock of recipe. While I love the horseshoe sandwich and all of its many varieties of meat, bread, French fry, and as you can see cheese choices I cannot give this particular recipe high stars. It's almost as bad as the lady who said she used a powdered cheese to make her sauce. This is like putting a homemade five cheese mac n cheese next to a .35 box of Kraft powdered cheese mac n cheese. While both are Mac and cheese one is far superior. That is why I cannot give this a higher star rating.
SANDWICH PART: Form 6 hamburgers and season to taste.
Cook them, trying to keep them as evenly flat as you can.
Keep warm.
Begin to fry french fries.
Keep warm.
Toast bread until crisp.
SAUCE: Melt the butter in a heavy saucepan.
Stir in the flour.
Cook, stirring, 5 minutes.
Gradually stir in the 4 cups milk.
Stir and cook until thick.
Transfer to a large microwave-safe bowl.
Whisk in the evaporated milk until smooth.
Add the cut up Velveeta (OR Cheddar).
Microwave for 6 minutes.
Take out and stir.
Add the Worcestershire and hot pepper sauce.
Microwave for another 3 minutes or so, or until the sauce is smooth and hot.
Take out and taste for Worcestershire and hot sauce.
Place spoon you were stirring with on a clean plate, away from the stove.
If mixture seems to harden too fast upon cooling, add a bit more milk.
Note: I know this seems like a lot of cheese sauce and you may cut it down if you wish, but the cheese sauce is the main attraction here.
It is hard to have "too much"!
Assembly is in this order: toast, hamburger, lots of cheese sauce and french fries.
I promise, you'll have no leftovers.