vitalev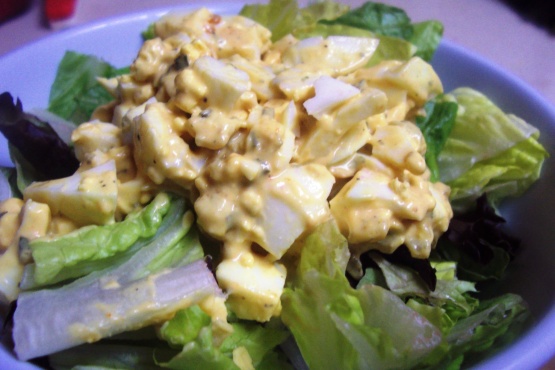 Ok so maybe not WORLD famous... This is a different version of egg salad. Similar in all the ways that count but with some ingredients that give it a different flavor and a fair amount of bite. Try it.... you'll like it :-) it can be cut in half easily if this is too much for your needs. I got this recipe from a recipe group I subscribe to.

This was terrific! I had some extra eggs leftover from easter, and this was a great way to prepare them. The ingredients were all convenient, and produced a nice mix of flavors with a kick. I served mine over lettuce because my bread was stale, but I can imagine it would be wonderful on some nice fresh bread.
Mix together all ingredients except the eggs in a large mixing bowl and taste for seasoning.
Add the chopped eggs and serve; how easy was THAT?