Workday Borscht (Vegetarian/ Crock Pot)
Prose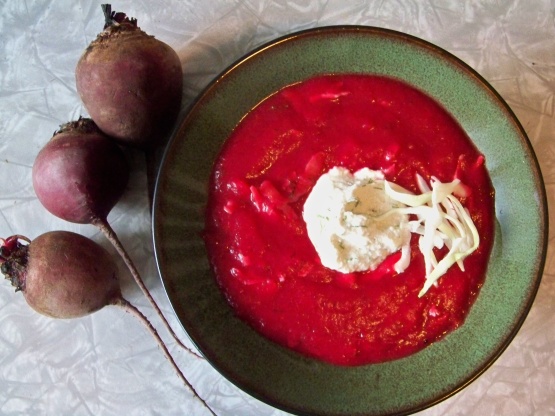 From the Whole Foods website. We really like this recipe. The original recipe says to serve with hard boiled eggs and warm "take-n-bake" bread.

Top Review by Prose
This is SUPER good! It has a very rich and subtle flavor. It is filling and very satisfying. It will definitely become a favorite: would be good any time of year, since I enjoyed it both hot and cold. I used cole slaw mix as the cabbage. I thought it added a very nice crunchy texture, but it would be good without it if you prefer a smooth, creamy texture. I added a can of white beans and a couple of carrots, inspired by some of the other veggie borscht recipes I saw. I used a red onion, because that was what I had. I had a little trouble finding fresh dill, so I almost used dried, but then I tried one more place, and I'm glad I did, because that fresh herby flavor was wonderful. I used vegan sour cream (Cream Tang by the Play Food company). My husband looked at this soup suspiciously, but he tried and liked it. It was pretty easy to make (but I'm totally gonna buy one of those immersion blenders so I can make this during the school year!) and there was a ton leftover, which I will probably freeze. Definitely made way more than 4 servings (probably more like 12).
Remove tops from beets and set aside for another use. Peel beets and cut in half if larger than 2 inches in diameter.
Place beets, potato, onion, broth, and tomato paste in slow cooker and cook on high heat for 4 hours or low heat for 8 hours.
Process soup in batches in a blender until smooth and return to slow cooker. Take great care when blending hot liquids. Do not fill blender canister more than half full, and make sure that the top is securely attached.
Before you are ready to serve, bury the cabbage in the puree. Cook on high, covered, for 45 minutes. Add 1/4 cup dill, vinegar and lemon juice and season to taste with salt.
In a separate bowl, mix remainder of dill with sour cream. Serve with a dollop of the sour cream in each bowl of soup and with lemon wedges.