Annacia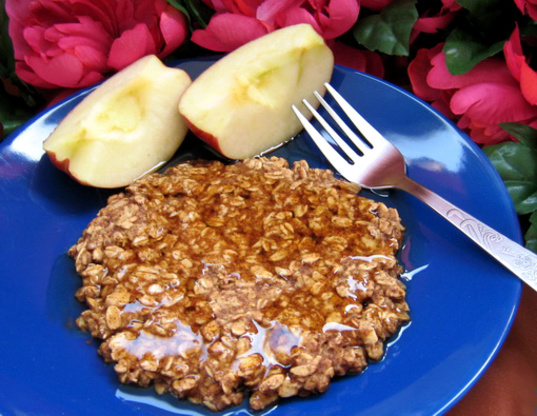 This is kind of like an individual oameal pancake that you bake or fry. It looks a bit like a wooly sweater when you bake it. Season it however you like (sweet or savory). I personally like it with garlic powder and oregano for dinner or cinnamon and sugar for breakfast. The water measurement is an estimate.

Really, really glad that I tried this out!! Probably want to double it for a meal, though, and here's what I did with this great recipe: Used a low carb vanilla yogurt, added cinnamon (no Splenda or sweetner since I used a flavored yogurt) & used about 4 1/2 tsp water. I also added 1 tbsp Eggbeaters because I really don't like a "watery" taste & a little egg adds a little fluffiness! Make sure this is cooked well before flipping (I did this on my stovetop & yes, the batter is thick!), and sugar free syup tastes GREAT with this. I am planning on topping with some natural peanut butter & sliced bananas. Thanks so much for sharing this; what a funky name, too!
Preheat the oven to 400 if baking.
Grease a baking sheet or a skillet.
Mix the dry ingredients.
Add the yogurt.
Add enough water to make a batter.
Pour onto the baking sheet and bake for 10 minutes.
OR fry in the frying pan, turning once the first side is golden brown.