DuChick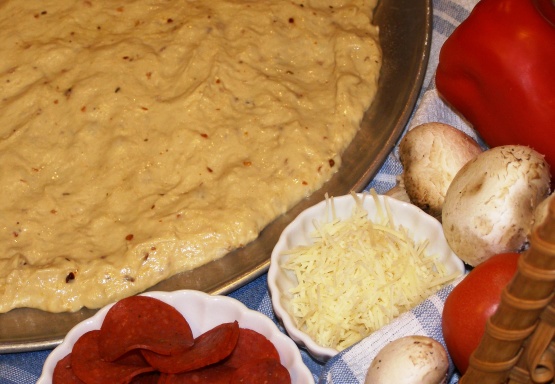 This is my brother's recipe. He said he based it off of Betty Crocker's pizza crust. It is quite honestly the best I have ever tasted. My husband even rated it as one of his favorites along with Uno's pizza. I always made it with Don Pepino's pizza sauce though when my brother made it he made his sauce from scratch. You can roll this out as thick or as thin as you like. It works great as a thick crust.

Emily, go kiss your brother! Woody has stumbled upon a winner here that could put him into his own business! I loved how quick it was to throw together and forget while I prepped the topping ingredients. I added a generous sprinkling of Paul Prudhommes Pizza and Pasta Magic seasoning to the mix, then followed every single step for a wonderful result! Dinner was devoured. Thanks for another winner, Emily E.!
In a mixing bowl add yeast and sugar to hot water. Then add oil, salt and pizza seasoning and mix thoroughly (add enough seasoning to cover the whole surface layer of liquid - or to your preferred taste. Oregano and basil should be majority and pepper should be about 2-3 shakes).
Add flour and mix up to 30 revolutions.
Let rise in a warm and moist place for 20 minutes (I always put a cheese cloth over my bowl and put it in the oven with a pie plate of hot water below it.).
When dough is done rising, begin preheating oven to 425 degrees.
Punch down dough and kneed in hands and bowl. Keep moving. Sprinkle cornmeal in a thin layer over pizza pan (circular with holes works well) and roll dough out on pan as thick or thin as you like. (Dough will rise at the edges during cooking so you can roll out evenly.).
Add desired sauce, meat, veggies and cheese (I like Don Pepino's the best - huge difference!).
Bake in 425 degree oven for 15-20 minutes.