Won't Mess up Your Oven Scalloped Potatoes
Rita1652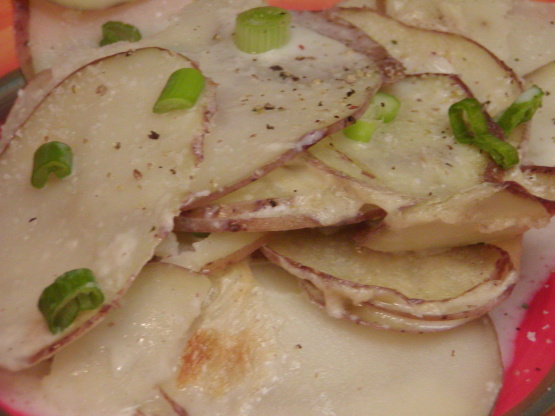 These are so simple and you will only have a pot to scrub; no nasty spills in the bottom of your oven. They are a bit runny if you use the whole milk and not the Half and Half, but for simplicity's sake, and not smelling burnt milk in the oven, it's OK with me. These are most appealing to those with "tender taste buds" and may prefer things mild and creamy, as opposed to savory and spicy.
Top Review by PaulaG
Divided the recipe in half and used "extra strength powdered milk" with a tablespoon of creme fraiche. I used the amount of shallots called for in the full recipe as well as adding some thinly sliced onions seperated into rings. Added some black pepper and probably will add a touch of cayenne next time around. I was a little concerned about the thickness when putting in the oven but after they cooked the 20 minutes or so, the sauce was perfect. I topped these off with some paprika before baking and they had a nice appearance. I really liked the cooking method as it takes less time than traditional scalloped potatoes and as the title implies they don't mess up you oven. :)
6

cups potatoes, peeled sliced lengthwise and sliced into 1/8 inch slices (any variety will do; Idaho, Yukon Gold, White Rose, Red...)

4

cups whole milk (you can use Half and Half, for a thicker, richer version)

2

tablespoons unsalted butter

1

tablespoon finely diced shallot
1⁄2 teaspoon freshly grated nutmeg, to taste
On stovetop, melt butter in a large, heavy bottomed pot.
Stir in shallots and cook very gently for about 1 minute.
Add potato slices and toss to coat with the butter.
Add nutmeg and toss.
Cover with milk and lower heat to simmer.
Gently stir the pot a few times to make sure the bottom does not scorch, the potatoes will break up a little, but they still taste good.
After milk cooks down and potatoes are soft, transfer to oven caserole dish and finish in 350 degree oven for about 20 minutes or until it's as thick as you like it.
Serve.