Wonderfully Moist Zucchini Bread
This zucchini bread is just amazing--you'd never know there are veggies in it! When I was first learning to cook, a beautiful Texan woman taught me a few things--one of them being this recipe. So, give it a try and enjoy! (Thanks Cindy!)
Directions
Beat eggs until fluffy.
Add oil, sugar, zucchini.
Add dry ingredients.
Add vanilla and if using , fold in nuts and raisins.
Bake at 350°F in 2 greased and floured loaf pans for approx 1 hour, or until toothpick comes out clean.
Most Helpful
Not sure what the other reviewer did wrong, but for me this recipe turned out beautifully. It made four mini-loaves that rose perfectly and were super moist as advertised! I am a recent convert to raisins in zucchini bread, so I added both walnuts and raisins to this bread. They are a nice for a change. Baked these for about 35-40 minutes in the mini-loaf pans. My only change was to cut back the sugar to 1 1/4 cups as we like things less sweet. I can attest that this recipe does not deserve a 1 star review and hope others will give it a try. Thanks,gypsysister! [Made for Bargain Basement Tag]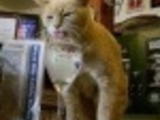 Moist! moist! Moist! Clearly the best recipe I've found. I reduced the oil to 3/4 c, and replaced with 1/2 c applesauce. Coarsely shredded zucchini. This is my go- to recipe. Try it!!!!!!!

I didn't have problem to bake these breads. I also reduced the sugar. We found that there was too much baking powder in them and also too much oil. Next time I'll use half oil and half applesauce. Thanks for posting. Made for Bargain Basement tag game