Wonderful Stuffed Potatoes
Derf2440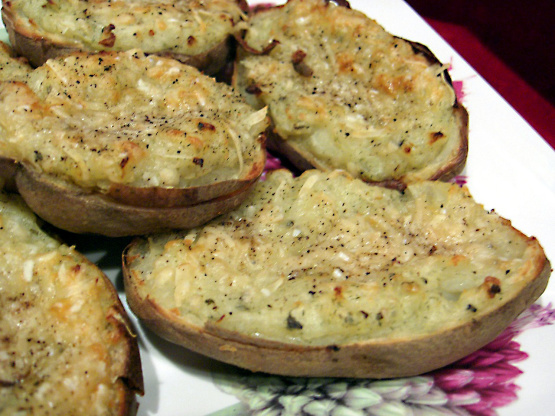 Adopted 2/10/06 Note Make at your own risk until I make it. Yeah I know.. I am behind schedule but it was too hot to make. 8/06
Prick potatoes with fork then bake at 425 degrees F for 60 minutes or until fork is easily inserted.
Cut potatoes in half lengthwise. Carefully scoop out potato leaving about 1/2-inch of pulp inside shell. Mash pulp in large bowl.
Mix in by hand remaining ingredients except Parmesan cheese.
Spoon mixture into potato shells.
Sprinkle top with 1/4 teaspoon Parmesan cheese.
Place on baking sheet and return to oven.
Bake 15-20 minutes or until tops are golden brown.