IngridH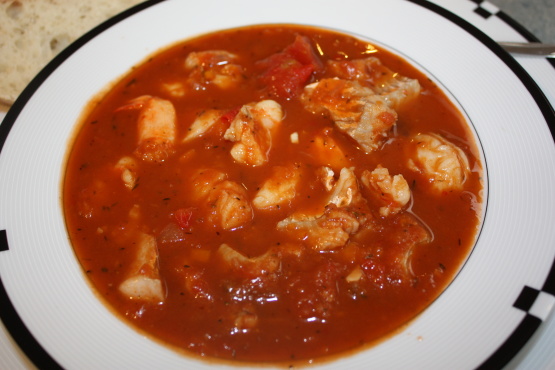 Boneless fish fillets and whole shrimp simmer with garlic, herbs, and Cajun spices in a bayou blockbuster of a stew. Health experts recommend eating at least one meal per week that includes fish -- let it be this one.

I made this tonight for myself and my 2 year old daughter. It was very good! Even my little girl ate it, which surprised me. The flavor is rich and hearty, however next time I will use a little less of the cajun seasoning. The heat level was just a little bit too much for the youngster. I used a filet each of mahi mahi and cod. I also added scallops along with the shrimp. I am definitely keeping this recipe. It's yummy.
Thaw fish and shrimp, if frozen.
Rinse fish and shrimp; pat dry.
Cut the fish into 1-inch pieces.
Cover and chill fish pieces and shrimp until needed.
In a large saucepan heat olive oil over medium-high heat.
Cook and stir onion, carrot, sweet pepper, and garlic in hot oil until tender.
Stir in the undrained tomatoes, tomato sauce, chicken broth, wine or chicken broth, bay leaves, dried thyme (if using), Cajun seasoning, cumin, and if desired, crushed red pepper.
Bring the mixture to boiling; reduce heat. Simmer, covered, for 20 minutes.
Gently stir in the fish pieces, shrimp, and fresh thyme (if using).
Cover and simmer about 5 minutes more or until the fish flakes easily when tested with a fork and shrimp are opaque.
Remove the bay leaves before serving.