Bergy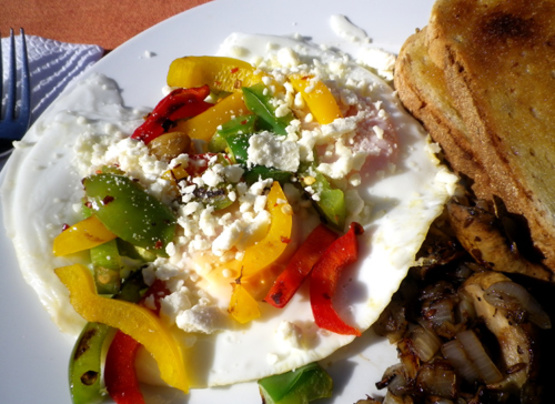 I absolutely love feta cheese and always looking for recipes to incorporate it in. This is an easy breakfast my family loves.

This is quite good. I made my own roasted bell pepper under the broiler. I used a yellow pepper as that is what I had. I used sea salt and in place of the crushed red pepper flakes I used paprika as I didn't have any plus we don't like spicy (I may have added a dash or two garlic salt as well). I followed the rest exactly. Made for The Big Fat Greek Tag Game! For the WHOLE of September 2010 in KK's forum.
Heat the olive oil in a medium skillet. When hot add eggs and cook until done.
Put on serving plates, reserving the oil in skillet. Place the roasted peppers, feta, crushed chiles and salt and pepper in the skillet and cook until just warm, about 2 minutes.
Divide the pepper mixture equally over the cooked eggs and serve immediately.