Wonderful Gluten Free Zucchini Muffins
awalde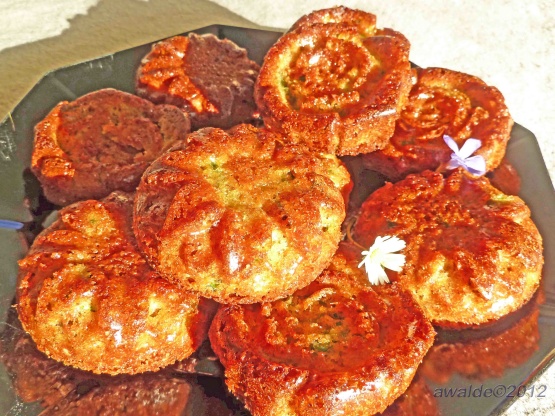 Top Review by awalde
This recipe was an experimenting field for us.
I did not get brown rice flour and I'm really sorry for that.
I tried with sweet (glutinous) rice flour first. They turned out super yummy, jelly like (as I was using the same flour as for Japanese mochi), but really not what I supposed to get. See photo in the garden on grass.
The second time I tried out with conventional wheat flour. Also these turned out super yummy and this time fluffy as supposed. We enjoyed these with #456836.
My children could not decide which the best are. :wink:
In this case a double thanks for the delicious spice combination and for offering us this recipe.
Note: I used 12 medium sized muffins silcon molds as this are the biggest I have.
Mix dry ingredients.
Mix wet ingredients.
Combine both mixtures.
Stir in chopped walnuts and shredded zucchini.
Let batter sit 15 minutes.
Scoop into lined muffin tins generously.
Bake at 350F for about 25 minutes (until a skewer comes out clean).