Wonderful Elephant Garlic Salsa
Rita1652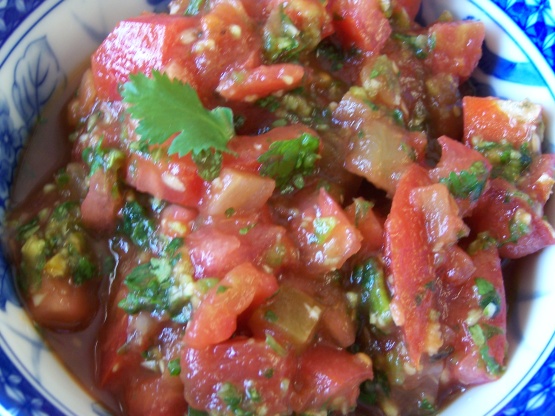 For all you garlic lovers, heres a salsa recipe that you are sure to enjoy.

I can`t imagine using 4 cloves of elephant garlic for 1 is the same size as 6 cloves of regular garlic. Yes they are mildier but I wenty for 4 cloves of regular garlic and boy this was great! yes I do have a wonderful aroma from eating it and it was worth it!I did add lime juice as well.
Chop garlic, green pepper and cilantro until fine (I use a food processor).
Chop the balance of the ingredients, except the jalapeno pepper; add to garlic/pepper mixture.
Chop the jalapeno pepper; add to mixture to desired heat.
Adjust all other ingredients to suit taste.
Note: you may substitute regular garlic for the elephant garlic (adjust to suit taste).