Sageca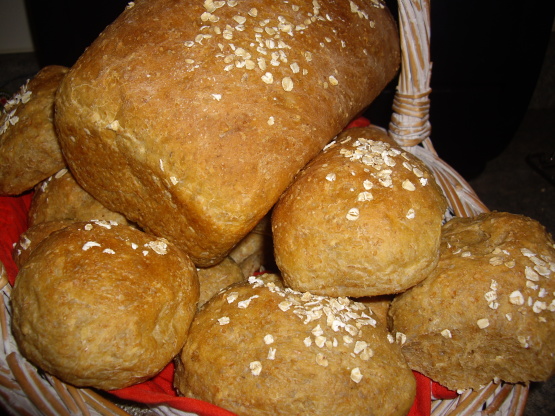 These are the wonderful light dinner rolls! They are served at a great restaurant here.I was able to get the recipe!!! He makes it by hand and I have to use my machine but the result is melt in your mouth dinner rolls as you can see by my photo.After seeing the reviews,I made the recipe again;12 rolls and a bread.I did cut down the water and the oil; it came out perfect

Sage, I think the ratio of ingredients might still be off a bit. The dough isn't a typical bread or roll batter, it's more the consistency of cake batter. Since there was no way I could shape them, I scooped the batter into muffin tins instead. I halved the recipe which made 12 very small rolls (didn't even rise above the muffin tin). I used mild molasses and wished I had used strong because the flavor seemed a bit lacking as well. Made for 1-2-3 Hit Wonders, please see my rating system as I rate tougher than most.
I made it with 1/2 white and 1/2 whole wheat flour Place ingredients in Bread Machine in order that is instructed with the Dough cycle.
Put a bit less water to start with and adjust as needed when the kneading process comes on.
Remove and shape into 24 rolls.
I used 1/2 molasses and 1/2 barley malt.
If you prefer substitute some of the flour for whole wheat.
Sprinkle rolls with oatmeal and bake in a preheated oven 350* for 15-20 minutes.
Preparation time includes cooking.
This recipe is also made by hand without the ABM.