Wonderful Cream Cheese Peach Coffee Cake
mary g.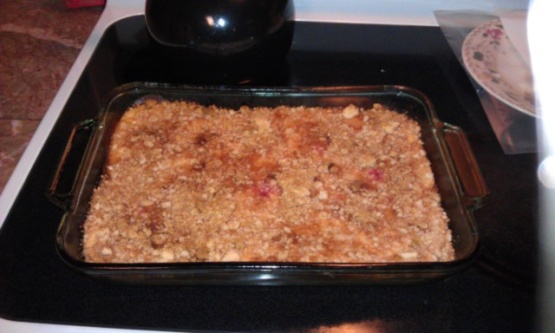 I have served this wonderful buttery peach coffeecake on so many different occasions, and always get so many compliments. It's not your average everyday coffeecake...it's filled with a heavenly-tasting cream cheese-peach filling, topped off with a brown sugar/cinnamon topping...to die for!

This really was yummy warm out of the oven (with vanilla ice cream)...BUT, my husband was eating it cold out of the fridge, and he said it was just as good, and I could make it for his birthday!
Set oven to 350 degrees.
Grease a 13 x 9-inch pan.
In a bowl, combine flour, sugar and salt.
Cut in the Crisco shortening with a pastry knife until crumbly; reserve 1 cup of the mixture for the topping.
Add in baking powder, eggs and vanilla to the remaining crumb mixture.
Beat on medium speed of an electric mixer for 2 minutes, or until smooth.
Spread evenly into prepared pan.
Bake for 20-25 minutes.
For the filling and topping: beat the cream cheese on medium speed until smooth and creamy.
Gradually add in the sweetened condensed milk, lemon juice and cinnamon; beat until smooth.
Fold in peaches; spread evenly over cake.
To the reserved crumb mixture, add in nuts, brown sugar and cinnamon; mix well, and sprinkle over filling.
Bake for 30-35 minutes longer, or until set.
Serve warm.
Delicious!