Wonderful Blueberry Pound Cake!
MsKathy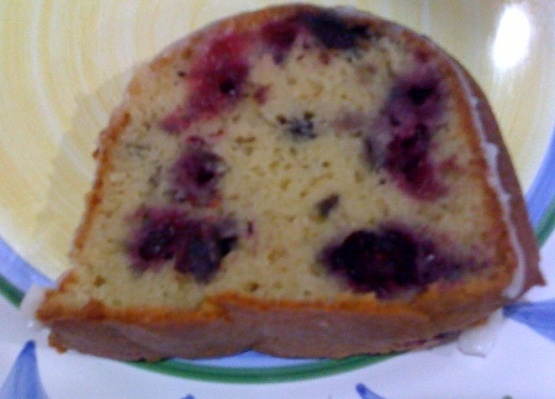 The name says it all, this cake is incredible! If you prefer a less sweeter cake use just 2 cups sugar. If you are using frozen blueberries then do not thaw them, the cake might need to be baked longer if using frozen berries. Please lemon-flavor yogurt only for this!

Moist and delicious, this was a perfect accompaniment for our evening of brinner (breakfast for dinner)! We served this with bacon and scrambled eggs instead of our usual blueberry pancakes, which are just too much work some days. Thank you for sharing this recipe!
Set oven to 350°.
Grease a 10-inch tube pan.
In a bowl beat the sugar with butter and softened cream cheese until fluffy (about 5 minutes).
Add in eggs and egg white one at a time until blended.
Add in the vanilla.
In a small bowl toss the blueberries with 2 tablespoons flour (removed from the 3 cups flour) set aside.
In another bowl mix the remaining flour with baking powder, baking soda and salt; add to the creamed mixture along with the yogurt, beginning and ending with the flour.
Fold in the blueberry mixture.
Transfer the mixture prepared tube pan.
Bake for about 1 hour and 10 minutes or until cake tests done.
Cool cake 10 minutes in pan then remove.
In a small bowl combine the powdered sugar with lemon juice, then drizzle over warm cake.