Heirloom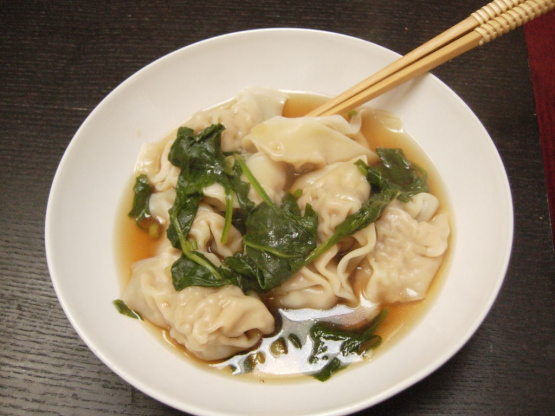 This isn't really a soup, strictly speaking. It's more like delicious dumplings with a spoonful or two of broth ladled over them. Perfection!

Top Review by Judth
I've been experimenting with different won ton soup recipes, and this is hands-down my family's favorite. I had my doubts about the beef broth, but silly me! it is simply perfect exactly as written. I have made it several times now and my only complaint is that the recipe says it serves 6, but 3 is more like it. Also, 1 package of won ton skins was nowhere near enough - which is good because I have plenty of dumplings left over to make another batch of this wonderful soup another day. Thanks SO much for posting this!
For the Won Tons:.
Mix all Won Ton filling ingredients together in a medium bowl.
Spoon about a teaspoon of filling onto each Won Ton skin and, wetting the edges, fold in half to seal, or into whatever dumpling shape you prefer.
Repeat until all filling is used.
Heat 3 quarts lightly salted water to a boil in a large soup pot.
Boil Won Tons about 5-7 minutes, or until cooked through. Test by cutting one in half with a knife, if unsure, to ensure filling is cooked through.
For the Broth:.
In a medium sauce pot heat broth, soy sauce, sesame oil, green onion and garlic to a boil.
Add spinach and cook until wilted.
In a shallow, pasta-style bowl place 4-5 dumplings and ladle spinach and broth over top.