alligirl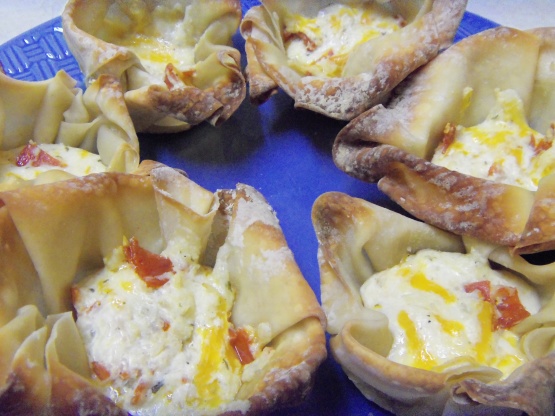 This is my friend Heather's recipe, I have changed it slightly as the variations are endless. I hope you will enjoy these, as much as we do. These can be made ahead, covered and refrigerate for several hours or overnight and baked when needed.

I was so excited to tag this, as I had egg roll wrappers to use up.....EGGROLL WRAPPERS, not wonton wrappers. :( I didn't realize until getting ready to make these, that I had eggroll wrappers, so I tried to make do, tho, in retrospect, I should have cut them down to size. Anyway, with some fancy folding, I got the wrappers in the tins, and proceeded with filling. I used some of the new philly cream cheese cooking sauce (italian cheese and herb flavor) in place of the ranch. I also skipped the peppers, as they don't agree with *one* of us. But added some different cheeses (cheddar, Kerrygold Dubliner, fresh shredded parmesan and mozzarella), with the chopped pepperoni and these came out beautifully, even with my myriad of mistakes and substitutions....the true test of an awesome recipe. Thanks for sharing these morsels, Baby Kato!
Preheat oven to 350 degrees.
Spray 24 muffin cups with cooking spray.
In each cup, gently place a wonton wrapper.
The edges of the won ton wrapper should extend up the sides of the cups.
Bake the wrappers 5 - 7 minutes or until they are golden brown. For best results do not over bake.
Remove the wrappers from oven and cool until needed.
Mix the cheeses, pepperoni, onion, olives, peppers and salad dressing together.
Evenly fill all the won ton cups with the cheese mixture.
Bake the filled won tons for 6 - 8 minutes or until the cheese is melted.