Woman's World Easy Stove Top Mac 'n Cheese
Prep 10 mins
Cook 10 mins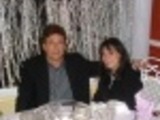 From Woman's World Magazine 10/26/04. Only four ingredients!
Directions
Preheat broiler rack so that top of 1-1/2 quart baking dish will be 4 inches from heat source. Preheat broiler.
Cook pasta according to package directions; drain.
In same pot, heat Alfredo sauce over medium heat; stir in 1-3/4 cups cheese and Worcestershire sauce until smooth. Stir in pasta.
Transfer to baking dish; sprinkle with remaining cheese.
Broil 1-2 minutes or until cheese is melted and edges are lightly browned.
Most Helpful
I tried this first because it looked even easier than "Easy Stove Top Macaroni and Cheese" by Marie. This recipe IS a little easier since it uses bottled sauce, but the other is SO MUCH BETTER that it's worth the extra three or four minutes it takes to make.

Bottled Alfredo sauce gives this an odd texture that's both slick and gluey, and Worcestershire sauce is just wrong in macaroni and cheese. Besides, what's with calling this a "stove top" recipe when it goes under the broiler? The only difference between baking and broiling is which element heats up, but it's still in the oven.

The broiling in this recipe takes as long as making the quick sauce in Marie's recipe, but taste and texture are infinitely better with the other recipe.
This was such an interesting idea for mac n cheese. I loved how simple it was too. I made exactly as directed. The flavor was nice, the texture was really creamy, and it used ingredients that are always on hand. Thanks so much for posting! Made for 1-2-3 Hit Wonders Tag.
Great recipe that is a bit different from the traditional. I do not think the "broiling" part was needed. I broiled only the portion for the picture and served the rest straight from the pot.