Woman's Prerogative Brownies
Redsie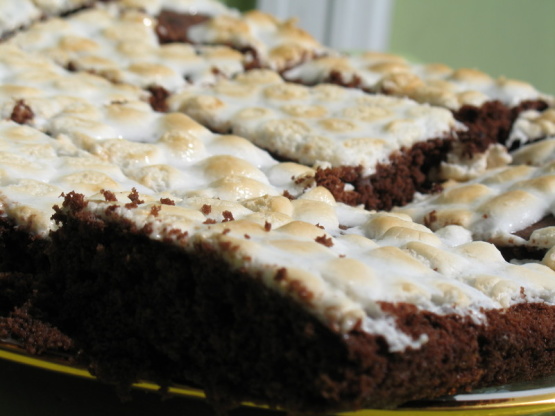 These are by far the best homemade brownies I have ever had. I combined a few recipes and recipe ideas to get IMHO the perfect brownie! The name comes from the fact that anyway you crave/want them they are good I posted them w/ the marshmallow filling and chocolate frosting as that is MY prerogative! They are good with mint filling, caramel, just the frosting or just plain! I hope you enjoy these as much as my friends and family!F

These brownies are delicious!!I didn't even have to frost them or put marshmallows on them.It is such a simple recipe.I used salted butter so I didn't have to add the salt.Such a nice rich flavor and texture.
Heat oven to 350°F.
Mix together butter, sugar, and vanilla in a bowl.
Add eggs.
Stir in dry ingredients and add nuts in a bowl.
Pour into greased 9x13-inch pan.
Bake for 20-25 minutes. Just until set, do not over bake or they will be dry!
Allow to cool for 5 minutes and then cover evenly with mini marshmallows.
Return to oven and bake just until the marshmallows begin to melt (5 minutes or so).
Remove from oven and cool.
For frosting: to make it thick and creamy do not melt the butter; for a thin frosting, melt the butter, you can then pour the frosting instead of spreading it on top of the brownies and chill till the frosting sets up.
Combine powdered sugar and cocoa, add butter (whatever method you are using)and blend well.
Add milk and vanilla and beat till smooth.
Spread over brownies and cut into squares.