Calee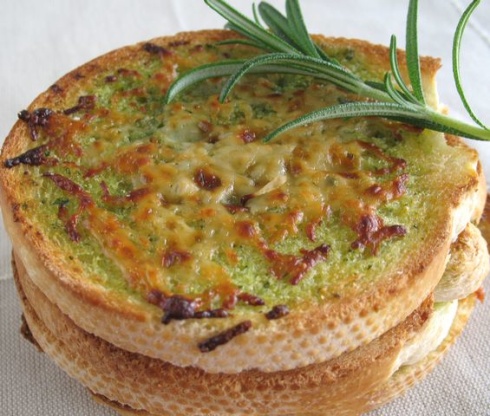 This is a great 'different' from the normal garlic breads. I used only Parmesan cheese, recipe calls for both Parmesan and Mozza. I guess I really shouldn't be messing with Wolfgang's recipes...but we liked the outcome!
Preheat the oven to 500 degrees.
In a blender, combine the garlic, basil, rosemary, sage, chili flakes and a pinch of salt. Puree.
With the blender running, slowly drizzle in the olive oil.
Slice the bread into 1/2 inch thick slices and place on a cookie sheet.
Brush with the garlic pesto.
Sprinkle with Parmesan and mozzarella, if desired.
Bake on the upper rack until golden brown and bubbly, about 5 to 7 minutes.