Wolfgang Puck's Savory Squash Soup
Rita1652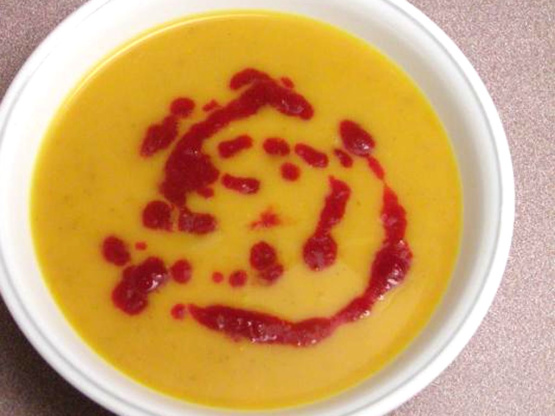 My best friend introduced me to this soup. I found this recipe several years ago someplace on the web. This does take some time but is well worth the effort. The prep and cooking times are guesses.

The squash soup at Wolfgang Puck's restaurant is one of my favorites. This comes very close, but needs some sugar added to sweeten it up plus I double or triple the ginger. The red pepper coulis is critical, though you don't need to go through the trouble of roasting your own. Just buy a jar of red peppers from the supermarket (near the pickles) and puree it.
Preheat oven to 350 degrees.
Cut each squash in half and discard seeds.
Brush cut sides with 2 tablespoons of melted butter, season with salt, pepper and nutmeg.
Arrange the squash cut side down in a roasting pan and bake until tender, approximately 1 hour.
Allow to cool until squash can be safely handled, then scoop out insides of squash.
Puree the flesh in a food processor, reserve.
This should produce about 4 cups of pureed squash.
In a medium stockpot, melt the remaining 4 tablespoons of butter.
Over low heat, saute the onion, do not allow it to brown.
Add pureed squash and cook over very low heat until heated through, stirring occasionally.
Do not allow it to bubble up.
Season with salt, pepper, ginger and cardamom.
Pour in stock and bring to a boil, over low heat, stirring often.
Cook about 20 minutes.
Add the Cream Fraiche and rosemary spring.
Warm through, remove rosemary and adjust seasonings to taste.
Roast the peppers over flame on stove or under broiler until skin blackens evenly.
Allow to cool, peel off black skin, remove core and seeds; chop coarsely.
In blender or food processor, puree the peppers, adding chicken broth until thick sauce consistency is attained.
Season with salt and pepper, strain, and pour into plastic squeeze bottle.
Serve the soup with swirls of the roasted red pepper coulis.