Wok Tossed Honey Soy and Chili Chicken Wings
ImPat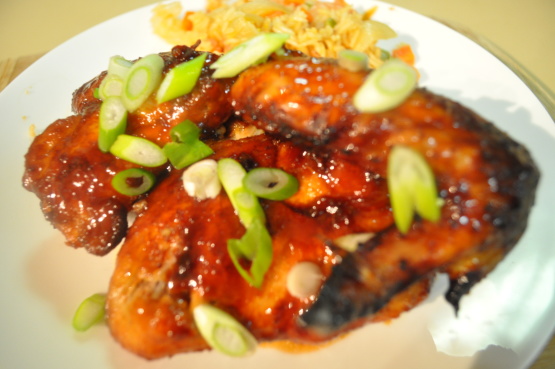 Here is a very easy chicken wing recipe that is done in no time at all and is super easy to make.

Top Review by ImPat
O'kay due to what was happening I had stove constrictures so I browned the wings (left tips on) and then put them into a foiled lined baking tray and poured the sauce over them and cooked in the oven for (175C fan forced) abourt 50 to 55 minutes and the end result was some of the best sticky tasteing chicken wings we have ever had, Oh I only cooked 8 wings for 3 of us but they did have a total weight of (including tips) 1 1/4k so they were big. Made for Make My Recipe - Edition 14.
Combine chicken with garlic and ginger in a large bowl.
Heat oil in a wok, add chicken in batches and cook until browned all over, remove chicken, wipe wok clean, place wok on side, add sauces and honey, stir until well combined.
Return chicken to wok and place back on a medium low heat, cover wok and cook, 10-15 Min's, stirring occasionally or until chicken is cooked through.
To Serve: Place wings in a bowl and top with sliced green onion. I served mine with a nice big salad of greens, egg, avocado, cucumber, bacon, red onion, parmesan cheese and topped with alf alfa sprouts.