Wok-Seared Sesame Green Beans
lazyme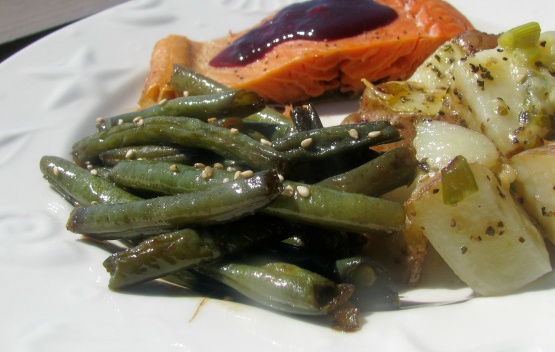 Entered for safe-keeping. By Victoria Abbott Riccardi in March 2003 Bon Appetit. Found while exploring Cook Here and Now website.

These are even better the next day eaten cold! I know that sounds strange, but its true. Made these last night to go along with some wonderful steaks, and they tasted okay, but not great. But today at lunch pulled them out and tossed them onto a salad as a garnish....fantastic! Thanks for sharing!
Cook green beans in large pot of boiling water until crisp-tender, about 3 minutes. Drain.
Transfer green beans to large bowl of ice water to cool. Drain again.
Pat green beans dry. (Can be prepared 1 day ahead. Wrap green beans in paper towels and enclose in resealable plastic bag. Refrigerate.).
Toast sesame seeds: Heat the seeds in a dry pan over medium heat, or on a sheet in a 275ºF oven, until golden and fragrant, about 5 minutes.
Heat oil in heavy large wok or nonstick skillet over high heat.
Add green beans and stir-fry until heated through, about 2 minutes.
Add soy sauce, vinegar, sugar, and pepper. Stir-fry until sauce reduces slightly and loosely coats green beans, about 2 minutes longer.
Add toasted sesame seeds and toss to coat.
Transfer green bean mixture to bowl and serve.