Witch's Hairy Finger Breadsticks
Deantini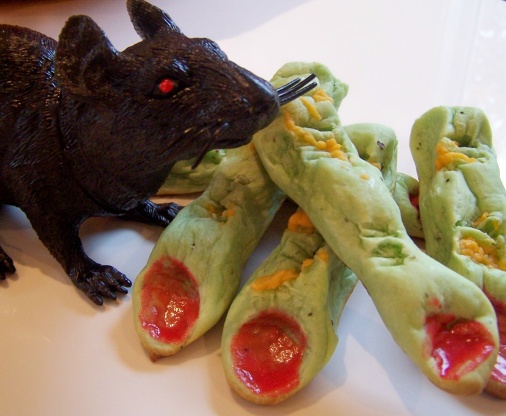 Green Halloween breadsticks from TOH-has a creepy picture! They're best when served right out of the oven because the cheese is still warm and soft. Serve with marinara dipping sauce.

This is a great & fun recipe! I love the colour - just perfect! I used cheddar instead of parmesan cheese. I made these for a Halloween Party at the kids' nutfree school, so I could not use almonds for nails; instead I used some red icing thinned with water. I know - bread and icing don't really go together but as far as I'm concerned - when Halloween comes around the ghosts enter the kitchen and weird things are known to happen. The fingers were a bit time consuming, because I had to re-shape them after they had been in the oven for 5 min. The dough puffed up so much that you could barely see any knuckles or nail impressions I had made, so after 5 min I removed the fingers and redid the forming of nails and knuckles. I would say that you can easily stretch this recipe to 40-50 breadsticks if you want long snarly fingers; mine sort of came out a bit like giants' fingers because the dough rose quit a bit while baking. Next time I would make the fingers longer and skinnier. Oh yes - the flavour :) was great, too! I sent the fingers to school with a side of spreadable cream cheese and cheddar cubes for an easy and fairly healthy snack tray at school. Made for PRMR.
In a large bowl, dissolve the yeast in warm water.
Add the milk, egg, grated Parmesan cheese, butter, sugar, salt, Italian seasoning, garlic powder, food coloring, and 1 cup flour.
Beat on medium speed for 2 minutes.
Stir in enough of the remaining flour to form a soft dough.
Turn onto a floured surface; knead until smooth and elastic, about 6 to 8 minutes.
Place in a greased bowl, turning once to grease top.
Cover and let rise in a warm place until doubled, about 45 minutes.
Punch dough down; let stand for 10 minutes.
Preheat oven to 375 degrees.
Turn dough onto a lightly floured surface.
Divide into 16 pieces.
Shape each piece into a 10 inch rope.
Cut in half.
Place 2 inches apart on greased baking sheets.
Cover and let rise for 30 minutes.
Brush egg white over breadsticks; sprinkle with shredded Parmesan cheese.
Place an almond slice at the tip of each.
Bake at 375 degrees for 8 to 10 minutes or until lightly browned.
Serve warm with marinara sauce.