Wisconsin's Finest Cranberry Vodka
Shena O.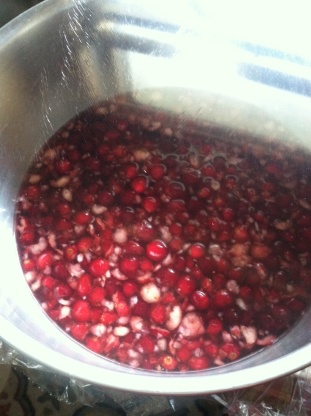 Keep a bottle handy and cheer up the dreariest winter day! Credit goes to Frances Bissell *Preserving Nature's Bounty* Serving size is merely a "suggestion"....
Put fruit and vodka in a large bowl, crush berries with a potato masher.
Leave fruit to macerate for 2 or 3 days COVERED.
Strain liquid through cheesecloth/jelly bag (clip cheesecloth to a footed colander using clothes pins).
Pour into a pitcher, then decant into bottles.
Seal & label.
Store in cool dark spot.