Wisconsin Cauliflower Cheese Soup
Parsley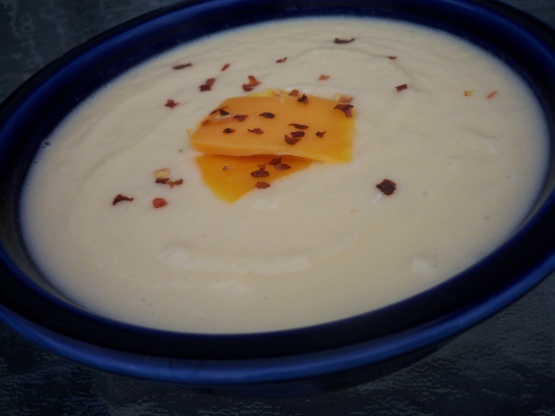 So rich, your guests won't believe it's made with milk instead of cream. Use a blender not a food processor to puree the soup for an extra-smooth texture. Kids and adults alike will love this soup.

I enjoyed this soup. Very tasty. I doubled it because I had 2 head of cauliflower to use. I doubled everything except the salt and water (left those as the single recipe amounts). I didn't bother with the cheese garnish to keep the fat and calories down (I used 3 cups for the double recipe). I also left out the red pepper flakes because I'm not fond of spicy things, but suspect that would have been nice for those so inclined. I used skim milk and the result was nice and creamy, although the texture was a bit course because I used an immersion blender. Using a blender likely would have resulted in a smoother soup and added to the sense of richness. The mustard added a really nice flavour. I'd certainly make this again.
In 4-quart saucepan, melt butter over medium heat. Add onion and cook until golden, about 10 minutes, stirring occasionally. Stir in flour, salt and garlic; cook 2 minutes, stirring frequently.
Stir in milk, chicken broth, red pepper, and 1 1/2 cups water; add cauliflower and heat to boiling over high heat. Reduce heat to low; cover and simmer until cauliflower is tender, about 10 minutes.
In blender or with immersion blender blend cauliflower mixture at low speed until very smooth.
Return cauliflower mixture to saucepan. Remove saucepan from heat; stir in mustard and 1 1/2 cups cheese until melted and smooth. Garnish soup with remaining cheese to serve.