Prep 15 mins
Cook 10 mins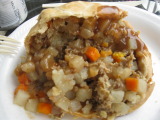 This should be the "State Burger of Wisconsin"!!! I had one of these at a roadside family restaurant/bar & grill in northern WI, a couple years ago.It was GREAT!!! I've tried to replicate it & I think I'm pretty close. If you can't find bratwurst patties, remove the casing off of an uncooked bratwurst link & make a pattie out of it.(This is for just one burger)
Directions
Using a flat-top griddle, grill or frypan, --
Cook the burger pattie so that it's still a bit "pink" inside & top with the cheddar cheese slice.
Cook the bratwurst pattie completely through & top with the monterey jack slice.
Stack both patties on the toasted bun & top with the lettuce, tomato & onion slice.
Top with your favorite condiments -- I prefer just ketchup & mayo.
REMEMBER: "The messier the burger, the better it is" -- ENJOY!
Most Helpful
This is such a great burger!! We have had the brat patties before but just ate them as an alternative to sausage brats; never thought to add them to a burger. Made as is (minus the onion) and it was perfect. Juicy, messy, drip down your hands good. DH left off the ketchup and used spicy brown mustard. Served with recipe#415095. Will be making these for summer BBQ's!! Made for PAC Spring 2010.
This makes one awesome mouthful of a burger. We just recently moved to Northern WI, near the U.P. and when I saw this recipe while checking out PAC participants, I knew I had to give it a try. I am so glad I did. Everyone in the family loved them as did the sleepover guests. Most of us just topped the burgers with onion and a good grainy mustard. (If we had added the lettuce and tomato I fear we wouldn't have fit them in our mouths). I used pre-made hamburger patties from our market figuring they would shrink up quite a bit however; there was very little shrinkage...the burger patties were humongous! I cooked the meat on my griddle but am looking forward to getting a new grill and cooking them over hot coals :). Thanks for sharing this wonderful recipe.